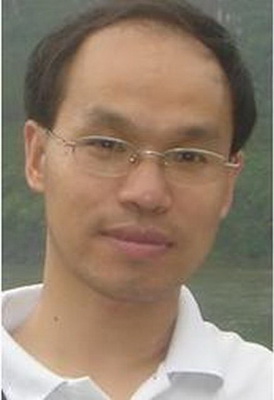 江国防
发布于:2018-01-26 星期五 16:26:05  点击数:25682
基本信息
江国防 男,1970年生,湖南省耒阳人
学 位: 中国科学院上海有机化学研究所研究生毕业,博士学位
职 业: 湖南大学化学化工学院教授,博士生导师
职 务: 先进催化教育部工程研究中心副主任
所属学科: 有机化学
实验室名称:先进催化教育部工程研究中心
研究方向: 有机合成,精细化工,仿生催化,功能材料
教育背景
1993年本科毕业于湖南师范大学化学系,学士学位
1999年研究生毕业于中国科学院上海有机化学研究所,博士学位
2002-2004留学日本京都大学,博士后
工作履历
1999-2002 湖南大学
2002-2004 日本京都大学
2004-现在 湖南大学
研究领域
科研项目
1、 金属卟啉仿生催化空气氧化碳氢化合物构效关系研究,国家自然科学基金。
2、 环形锯齿吲哚类吸附剂无害化处理重金属废水及其机理研究,国家自然科学基金。
3、 原位在线研究环己烷仿生催化氧化机理,湖南省自然科学基金。
4、 吲哚骨架插烯亚胺的转化研究,湖南省自然科学基金。
5、 金属卟啉催化剂生产工艺研究,湖南省科技计划项目。
6、 基于金属卟啉的生化毒剂快速检测研究,湖南省科技计划重点项目。
7、 金属卟啉中试工艺研究,湖南省科技计划项目。
8、 埃索美拉唑钠合成新工艺研究,长沙市科技计划项目。
9、 医药中间体合成,企业项目。
10、 医药中间体及原料药研究与开发,企业项目。
11、 医药中间体技术研发,企业项目。
12、 新型多官能团类丁苯橡胶防老剂合成技术研究,中石化项目。
13、 95%炔螨特技术攻关,企业项目。
14、 柴油抗磨剂技术,企业项目。
15、 橡胶防老剂研发,企业项目。
16、 仿生催化关键技术研究,企业项目。
17、 粘合剂技术开发,企业项目。
18、 水体抗生素、激素及重金属清除技术研发,企业项目。
19、 异戊二烯聚合结构调控剂与工艺研究,中石化项目。
20、 高档搪瓷釉及添加剂关键技术研究,企业项目。
21、 共价有机框架对水中重金属以及有机污染物的清除研究,上海有机所开放基金。
学术成果
2010年来发表的SCI论文:
1. De-Li Ma, Cheng Qian, Qiao-Yan Qi , Zhong-Ri Zhong , Guo-Fang Jiang, and Xin Zhao . Effects of connecting sequences of building blocks on reticular synthesis of covalent organic frameworks, Nano Research.2021, 14(2): 381–386
2. Fu-Zhi Cui, Zaichun Liu, De-Li Ma, Lili Liu, Ting Huang, Panpan Zhang, Deming Tan, Faxing Wang, Guo-Fang Jiang, Yuping Wu. Polyarylimide and porphyrin based polymer microspheres for zinc ion hybrid capacitors. Chemical Engineering Journal 405(2021)127038
3. Lu, Bing-Yi; Wang, Zhi-Qing; Cui, Fu-Zhi; Li, Jiang-Yu; Han, Xiang-Hao; Qi, Qiao-Yan; Ma, De-Li; Jiang, Guo-Fang; Zeng, Xian-Xiang; Zhao, Xin, A Covalent Organic Framework with Extended π-Conjugated Building Units as a Highly Efficient Recipient for Lithium-Sulfur Batteries, ACS Applied Materials & Interfaces (2020), 12(31), 34990-34998.
4. De-LiMa,Qiao-YanQi,JianLu,Meng-HuiXiang,ChaoJia,Bing-YiLu,Guo-FangJiang,XinZhao.Transformation between 2D covalent organic frameworks with distinct porehierarchy via exchange of building blocks with different symmetries. Chem.Commun.,2020,56,15418--15421
5. Fu-Zhi Cui, Rong-Ran Liang, Qiao-Yan Qi, Guo-Fang Jiang, and Xin Zhao,Efficient Removal of Cr(VI) from Aqueous Solutions by a Dual-Pore Covalent Organic Framework Adv. Sustainable Syst. 2019, 1800150
6. Fu-Zhi Cui,Jiao-Jiao Xie, Shu-Yan Jiang, Shi-Xian Gan, De-Li Ma,Rong-Ran Liang, Guo-Fang Jiang and Xin Zhao. A gaseous hydrogen chloride chemosensor based on a 2D covalent organic framework, Chem. Commun., 2019,55, 4550
7. Gu, Zheng; Xie, Jiao-Jiao; Jiang, Guo-Fang; Zhou, Yong-Gui. Catalytic Asymmetric Conjugate Addition of Tritylthiol to Azadienes with a Bifunctional Organocatalyst. Asian J. Org. Chem. 2018, 7, 1561 – 1564.
8. Zhou, Ji; Huang, Wen-Jun; Jiang, Guo-Fang. Synthesis of Chiral Pyrazolone and Spiropyrazolone Derivatives through Squaramide-Catalyzed Reaction of Pyrazolin-5-ones with o-Quinone Methides. Organic Letters (2018), 20(4), 1158-1161.
9. Gu, Zheng; Zhou, Ji; Jiang, Guo-Fang; Zhou, Yong-Gui. Synthesis of chiral γ-aminophosphonates through the organocatalytic hydrophosphonylation of azadienes with phosphites. Organic Chemistry Frontiers (2018), 5(7), 1148-1151y
10. Qian, Cheng; Liu, En-Cheng; Qi, Qiao-Yan; Xu, Kaijia; Jiang, Guo-Fang; Zhao, Xin. A design strategy for the construction of 2D heteropore covalent organic frameworks based on the combination of C2v and D3h symmetric building blocks . Polymer Chemistry (2018), 9(3), 279-283.
11. Qian, Cheng; Qi, Qiao-Yan; Jiang, Guo-Fang; Cui, Fu-Zhi; Tian, Yuan; Zhao, Xin. Toward Covalent Organic Frameworks Bearing Three Different Kinds of Pores: The Strategy for Construction and COF-to-COF Transformation via Heterogeneous Linker Exchange, Journal of the American Chemical Society (2017), 139(19), 6736-6743.
12. Gu, Zheng; Tang, Yao; Jiang, Guo-Fang .Combined Di-tert-butyl Peroxide and Inorganic Base Promoted α-Alkylation of Ethers with Arenesulfonylindoles, Journal of Organic Chemistry (2017), 82(10), 5441-5448.
13. Zhou, Ji; Wang, Mao-Lin; Gao, Xiang; Jiang, Guo-Fang; Zhou, Yong-Gui .Bifunctional squaramide-catalyzed synthesis of chiral dihydrocoumarins via ortho-quinone methides generated from 2-(1-tosylalkyl)phenols, Chemical Communications (Cambridge, United Kingdom) (2017), 53(25), 3531-3534.
14. Wang, Ci-Ping; Jiang, Guo-Fang .An efficient method based on indoles for the synthesis of isatins by taking advantage of I2O5 as oxidant, Tetrahedron Letters (2017), 58(18), 1747-1750.
15. Tian, Yuan; Xu, Shun-Qi; Liang, Rong-Ran; Qian, Cheng; Jiang, Guo-Fang; Zhao, Xin .Construction of two heteropore covalent organic frameworks with Kagome lattices, CrystEngComm (2017), 19,4877-4881
16. Tang, Yao; Jiang, Guo-Fang . A novel two-photon fluorescent probe for hydrogen sulfide in living cells using an acedan-NBD amine dyad based on FRET process with high selectivity and sensitivity, New Journal of Chemistry (2017), 41(14), 6769-6774。
17. Tang, Yao; Jiang, Guo-Fang. Toward a highly sensitive and selective indole-rhodamine-based light-up probe for Hg2+ and its application in living cells, Tetrahedron Letters (2017), 58(29), 2846-2849.
18. Zhou-Hao Zhu, Meng-Lin Chen, Guo-Fang Jiang Asymmetric synthesis of 4-aryl-1,2,5-thiadiazolidin-3-one 1,1-dioxides via Pd-catalyzed hydrogenation of cyclic ketimines Organic & Biomolecular Chemistry (2017), 15(6), 1325-1328
19. Ji Zhou, Qian-Fan Zhang, Wei-Hao Zhao and Guo-Fang Jiang Chiral phosphoric acid-catalyzed asymmetric transfer hydrogenation of 3-trifluoromethylthioquinolines,Org. Biomol. Chem., 2016, 14, 6937–6941
20. Cheng Qian,Shun-Qi Xu,Guo-Fang Jiang,Tian-Guang Zhan,and Xin Zhao,Precision Construction of 2D Heteropore Covalent Organic Frameworks by a Multiple-Linking-Site Strategy,Chem. Eur. J. 2016, 22, 17784 – 17789
21. Yuan Tian,Shun-Qi Xu, Cheng Qian, Zhong-Fu Pang, Guo-Fang Jiang and
Xin Zhao, Two-dimensional dual-pore covalent organic frameworks obtained from the combination of two D2h symmetrical building blocks,Chem. Commun., 2016, 52, 11704—11707
22. Cheng Qian,Wei-Hao Zhao,Yuan Tian,Guo-Fang Jiang,Tian-Guang Zhan,and Xin Zhao, Synthesis, Photophysical and Electrochemical Properties, and Selfassembly Behavior of Two Hexaazatriphenylene Derivatives: A Single Bond Makes a Big Difference, Chem. Asian J. 2016, 11, 839 – 843
23. 唐叶绿,杜宗波,江国防, 一锅法合成苯并噁唑类化合物, 中南大学学报(自然科学版),2016,47(2),408-413
24. Feng Shuangxia, Gu Zheng, Tang Yelv, Liu Hui and Jiang Guofang An efficient and green synthetic route to losartan, JOURNAL OF CHEMICAL RESEARCH 2015,39, 451–454
25. 刘慧,谷铮,田渊,江国防*,手性金属卟啉催化氧化制备埃索美拉唑钠工业化工艺,中南大学学报(自然科学版),2015,46(12),4417-4421
26. Luo,Jing;Wu,Bo;Chen,Mu-Wang;Jiang,Guo-Fang*;Zhou,Yong-Gui,The Concise Synthesis of Spiro-Cyclopropane Compounds via the Dearomatization of Indole Derivatives,Organic Letters,2014,16(10),2578-2581.
27. Niu,Pingping;Zhao,Weihao;Jiang,Guofang;Guo,Cancheng,A novel ZnF2-catalyzed esterification of oleic acid,Asian Journal of Chemistry,2014,26(22),7776-7778
28. Nie,Bo;Zhan,Tian-Guang;Zhou,Tian-You;Xiao,Ze-Yun;Jiang,Guo-Fang*;Zhao,Xin,Self-Assembly of Chiral Propeller-like Supermolecules with Unusual "Sergeants-and-Soldiers"and"Majority-Rules"Effects,Chemistry-An Asian Journal,2014,9(3),754-758.
29. Zhang,Jia-Ling;Liu,Yu;Song,Ren-Jie;Jiang,Guo-Fang;Li,Jin-Heng,1,2-alkylarylation of activated alkenes with two C-H bonds by using visible-light catalysis,Synlett,2014,25(7),1031-1035.
30. Chen,Mu-Wang;Cao,Liang-Liang;Ye,Zhi-Shi;Jiang,Guo-Fang;Zhou,Yong-Gui,A mild method for generation of o-quinone methides under basic conditions. The facile synthesis of trans-2,3-dihydrobenzofurans,Chemical Communications,(2013),49(16),1660-1662.
31. Cao, Liang-Liang; Li, Xu-Ni; Meng, Fan-Yan; Jiang, Guo-Fang Pd-catalyzed addition of boronic acids to vinylogous imines: a convenient approach to 3-sec-alkyl substituted indoles Tetrahedron Letters (2012), 53(30), 3873-3875.
32. Jiang, Guo-fang; Liu, Yong-bo; Wu, Qian; Zeng, Chun-jiao; Wang, Kai-ji; Guo, Can-cheng Synthesis of quinolone-bonded porphyrins and their interaction with bovine serum albumin Hunan Daxue Xuebao, Ziran Kexueban (2012), 39(1), 67-70.
33. Cao, Liang-Liang; Ye, Zhi-Shi; Jiang, Guo-Fang; Zhou, Yong-Gui. Rhodium-catalyzed addition of boronic acids to vinylogous imines generated in situ from sulfonylindoles. Advanced Synthesis & Catalysis (2011), 353(18), 3352-3356.
34. Cao, Liang-Liang; Wang, Duo-Sheng; Jiang, Guo-Fang; Zhou, Yong-Gui. An efficient route to 2,3-disubstituted indoles via reductive alkylation using H2 as reductant. Tetrahedron Letters (2011), 52(22), 2837-2839.
35. Wang, Duo-Sheng; Tang, Jie; Zhou, Yong-Gui; Chen, Mu-Wang; Yu, Chang-Bin; Duan, Ying; Jiang, Guo-Fang. Dehydration triggered asymmetric hydrogenation of 3-(a -hydroxyalkyl)indoles. Chemical Science (2011), 2(4), 803-806.
36. Jiang, Guofang; Tian, Yuan; Guo, Cancheng. Biomimetic catalysis and its application in hydrocarbon oxidation. Daxue Huaxue (2011), 26(2), 1-5,
37. Tang, Jie; Jiang, Guo-Fang; Zhou, Yong-Gui. Convenient synthesis of optically pure 8-methoxy-2-methyl-1,2,3,4-tetrahydroquinoline and 2-methyl-1,2,3,4-tetrahydroquinoline. Heterocycles (2010), 82(1), 887-893.
38. Xiao, Shen-Chu; Liu, Chao-Zhou; Liu, Wu-Kun; Xie, Wen-Zhong; Lin, Wei-Ying; Jiang, Guo-Fang; Guo, Can-Cheng. Selective synthesis and biological activity of triazine-porphyrins as potential anti-cancer agents. Journal of Porphyrins and Phthalocyanines (2010), 14(2), 123-127.
39. Xiao, Y.; Luo, W.-P.; Zhang, X.-Y.; Guo, C.-C.; Liu, Q.; Jiang, G.-F.; Li, Q.-H. Aerobic Oxidation of p-Toluic Acid to Terephthalic Acid over T(p-Cl)PPMnCl/Co(OAc)2 Under Moderate Conditions. Catalysis Letters (2010), 134(1-2), 155-161.
出版教材
1、有机化学(第二版),郭灿城,江国防,安德烈,陈新斌。科学出版社,2006年8月。
2、有机化学(第一版),郭灿城,陈新斌, 江国防。科学出版社,2001年8月。
3、BIOMIMETIC BASED APPLICATIONS,chapter 2 Biomimetic Oxidation of Hydrocarbons
with Air over Metalloporphyrins,Guofang Jiang, Qiang Liu and Cancheng Guo,2011.
4、有机化学习题解析(第一版),江国防,肖荣。湖南大学出版社,2020年。
奖励与荣誉
(1)1999年获湖南大学讲课比赛一等奖
(2)2001年 u-氧双金属卟啉仿生催化反应应用,湖南省科技进步奖二等奖
(3)2006年 环己烷仿生催化氧化制备环己酮工艺,教育部高等学校技术发明奖一等奖
(4)2007年获湖南大学讲课比赛一等奖
(5)2008 获湖南大学教学成果二等奖
(6)2008年获湖南省普通高校青年教师教学能手奖
(7)2008年《有机化学》(第二版),国家精品教材
(8)2009年获刘銮雄青年教师奖
(9)2007年《有机化学》(第二版),国家十一五规划教材
(10)2007年《有机化学与实验》,国家精品课程
(11)2010年 依托学科建设与质量工程创新、实践有机化学及实验课程新体系。湖南省教学成果一等奖
(12)2011年湖南省技术发明三等奖
(13)2012年湖南大学教学标兵
(14)2013年获湖南省教学比赛三等奖
(15)2014年《有机化学及实验》,主持国家精品资源共享课
(16)2014年获得宝钢优秀教师奖
(17)2019年获湖南省教学成果一等奖
(18)2020年获湖南省优秀博士论文指导教师奖