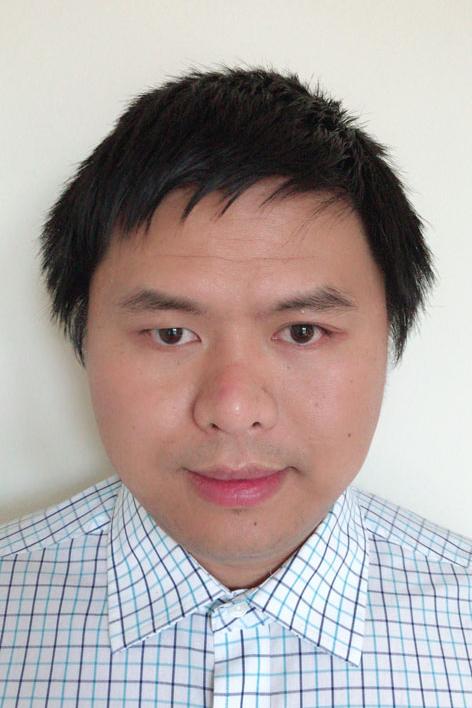 史俊峰
发布于:2019-06-06 星期四 10:10:15 点击数:2024
基本信息
史俊峰,2015年于美国布兰戴斯大学Bing Xu组获得博士学位。随后进入美国国立癌症研究所(NCI,NIH)Schneider组从事博士后研究。2019年加入湖南大学生物学院,聘为教授、岳麓学者。主要研究方向是多肽(包括糖肽、环肽)在细胞环境下的折叠、自助装机理,以及在此基础上探索多肽生物材料在癌症治疗、抗菌、药物传输(包括细胞和蛋白药物)、和组织工程上的应用。
目前在Nature Commun.、 JACS、 Angew Chem.、 Chem等期刊发表论文61余篇,并受邀在Chem. Rev.、 Nano Today等期刊撰写综述。部分成果被美国C&EN报道,其中有4篇论文入选 "ESI 高被引论文",总引用次数过3000次。
---
招聘信息(团队建设):
---
本研究团队旨在用分子科学的手段解决复杂的生命科学问题,属于交叉学科范畴。因项目需求,本实验现招聘助理教授(学校提供编制和启动经费)1-2名,博士后2-4名,科研助理1-2名,并长期招收博士研究生和硕士研究生。也非常欢迎对本实验室感兴趣的学者或研究生访问。加入本实验室需要具备以下至少一项专业背景:化学、细胞生物学、生物材料、计算生物学。最重要对实验室的研究具有强烈兴趣!!!
学校和课题组将提供优厚待遇和完善的科研条件,优秀者还可送往海外联合培养或进一步深造...
有意者请发送简历至jeff-shi@hnu.edu.cn.
教育背景
08.2009-08.2015 布兰戴斯大学化学系,美国,Ph.D 导师:Bing Xu
09.2007-06.2009 中山大学,高分子化学与物理,硕士,导师:张黎明
09.2003-06.2007 湘潭大学,化学系,导师:王先友
工作履历
2019年-至今 湖南大学,教授
11.2015-11.2018 博士后,美国国立癌症研究所(NCI,NIH),导师:Dr. Joel Schneider
08.2015-10.2015 博士后,布兰戴斯大学,美国,导师,Bing Xu

学术兼职
国际材料研究学会(MRS)会员,
美国化学学会(ACS)会员
美国多肽学会(APS)会员
中国化学会会员
独立申稿人:Materials Horizon, Chemical Communication, PLOS One, Journal of Material Chemistry B, the International Journal of Nanomedicine, Carbohydrate Polymers,
研究领域
研究领域:
主要研究方向是多肽(包括糖肽、环肽)在细胞环境下的折叠、自助装机理,以及在此基础上探索多肽生物材料在癌症治疗、抗菌、药物传输(细胞和蛋白药物)、和组织工程上的应用, 最终实现临床转化并造福人类。
My research mainly focuses on the fundamental mechanistic studies of bioactive peptide folding/self-assembly in cellular environment, especially on cyclized peptide. Resultant understanding lays the foundation to design novel materials for cancer therapy, antimicrobial, drug delivery and tissue engineering et al,, ultimately translate to clinic for improving human health.
Positions are available for postdoc, graduate student, and research assistant.
科研项目
国家自然科学基金面上项目:可酶激活细胞穿透肽的研究及其应用 2020-2023
国家自然科学基金青年项目:表面诱导自组装凝胶化及其抗菌上的应用 2020-2022
湖湘高层次人才聚集工程-创新人才: 2019-2021
学术成果
Shi, J.F., Schneider J.P., "De novo design of selective membrane-active peptides via enzymatic control of their conformational bias on the cell surface", Angew. Chem. Int. Ed.,2019,(热点文章,封面文章)

Shi, J.F., Fichman G., Schneider J.P.*, "Enzymatic Control of the Conformational Landscape of Supramolecular Assembling Peptides", Angew. Chem. Int. Ed. 2018, 57, 11188-11192.

Haburcak, R.#; Shi, J.F#; Du, X.; Yuan, D.; Xu, B.*, Ligand-Receptor Interaction Modulates the Energy Landscape of Enzyme-Instructed Self-Assembly of Small Molecules. J. Am. Chem. Soc. 2016, 138,47, 15397. (# 共同一作)

Shi, J.; Du, X.; Huang, Y.; Zhou, J.; Yuan, D.; Wu, D.; Zhang, Y.; Haburcak, R.; Epstein, I. R.; Xu, B.*, Ligand-Receptor Interaction Catalyzes the Aggregation of Small Molecules to Induce Cell Necroptosis. J Am Chem Soc, 2015,137, 1, 26-29

Shi, J.F.; Xu, B.*, Nanoscale assemblies of small molecules control the fate of cells. Nano Today 2015, 10 (5), 615-630.(IF=15)

Yuan, D.#; Shi, J. F.#; Du, X. W.; Zhou, N.; Xu, B.*, Supramolecular Glycosylation Accelerates Proteolytic Degradation of Peptide Nanofibrils. J Am Chem Soc, 2015, 137 (32), 10092-10095. (# 共同一作)

Shi, J.; Du, X.; Yuan, D.; Haburcak, R.; Wu, D.; Zhou, N.; Xu, B.*, Enzyme transformation to modulate the ligand–receptor interactions between small molecules. Chem Commun 2015, 51 (23), 4899-4901.

Shi, J. F.; Du, X. W.; Yuan, D.; Haburcak, R.; Zhou, N.; Xu, B.*, Supramolecular Detoxification of Neurotoxic Nanofibrils of Small Molecules via Morphological Switch. Bioconj. Chem. 2015, 26 (9), 1879-1883.

Shi, J.; Du, X.; Yuan, D.; Zhou, J.; Zhou, N.; Huang, Y.; Xu, B.*, d-Amino Acids Modulate the Cellular Response of Enzymatic-Instructed Supramolecular Nanofibers of Small Peptides. Biomacromolecules 2014, 15 (10), 3559-3568.

Shi, J.F.; Yuan, D.; Haburcak, R.; Zhang, Q.; Zhao, C.; Zhang, X.; Xu, B.*, Enzymatic Dissolution of Biocomposite Solids Consisting of Phosphopeptides to Form Supramolecular Hydrogels. Chemistry – A European Journal 2015, 21 (50), 18047-18051.

Shi, J.; Gao, Y.; Yang, Z.; Xu, B.*, Exceptionally small supramolecular hydrogelators based on aromatic–aromatic interactions. Beilstein J. Org. Chem. 2011, 7 (1), 167-172.

Shi, J.; Gao, Y.; Zhang, Y.; Pan, Y.; Xu, B.*, Calcium ions to cross-link supramolecular nanofibers to tune the elasticity of hydrogels over orders of magnitude. Langmuir 2011, 27 (23), 14425-14431.

Wang, H.; Shi, J.F; Feng, Z.; Zhou, R.; Wang, S.; Rodal, A. A.; Xu, B.*, An in-situ Dynamic Continuum of Supramolecular Phosphoglycopeptides Enables Formation of 3D Cell Spheroids. Angew. Chem. Int. Ed. 2017, 56 (51), 16297-16301

Kuang, Y.; Shi, J.; Li, J.; Yuan, D.; Alberti, K. A.; Xu, Q.; Xu, B.*, Pericellular Hydrogel/Nanonets Inhibit Cancer Cells. Angew. Chem. Int. Ed. 2014, 53 (31), 8104-8107.

Gao, Y.; Shi, J.; Yuan, D.; Xu, B.*, Imaging enzyme-triggered self-assembly of small molecules inside live cells. Nat. Commun. 2012, 3, 1033.

Du, X.; Zhou, J.; Shi, J.F.; Xu, B.*, Supramolecular Hydrogelators and Hydrogels: From Soft Matter to Molecular Biomaterials. Chem. Rev., 2015, 115, 24, 13165-13307.

Li, J.; Kuang, Y.; Shi, J. F.; Zhou, J.; Medina, J. E.; Zhou, R.; Yuan, D.; Yang, C. H.; Wang, H. M.; Yang, Z. M.; Liu, J. F.; Dinulescu, D. M.; Xu, B.*, Enzyme-Instructed Intracellular Molecular Self-Assembly to Boost Activity of Cisplatin against Drug-Resistant Ovarian Cancer Cells. Angew Chem Int Ed., 2015, 54 (45), 13307-13311.

Zhang, Y.; Zhou, N.; Shi, J.; Pochapsky, S. S.; Pochapsky, T. C.; Zhang, B.; Zhang, X.; Xu, B.*, Unfolding a molecular trefoil derived from a zwitterionic metallopeptide to form self-assembled nanostructures. Nat commun. 2015, 6, 6165